(List #45) Student Engagement - Lessons from Canada
Research, interns, competitions, listening, rethinking, networking, supporting and nudging
This week's list is about student engagement in sustainability in Canadian business schools
Every year, I read all the Sharing Information on Progress (SIP) Reports that Signatories to the UN Principles for Responsible Management Education (PRME) are required to submit. These are basically annual sustainability reports for business schools. I started this out of interest but also because I coordinate the Recognition of Excellence in Reporting which are given out regularly at the PRME Global Forum.
I'll be sharing interesting information from the reports as well as approaches to reporting here for the next few weeks. Let me know if you have any special requests. This week I wanted to share how Canadian business schools are engaging their students. The Canadian reports are such a pleasure to read (one would assume as much from the Canadians) so I'll be sharing plenty more from them soon. My latest article for AACSB is also about student engagement, this time aimed at students (8 Ways to Make an Impact in Business School).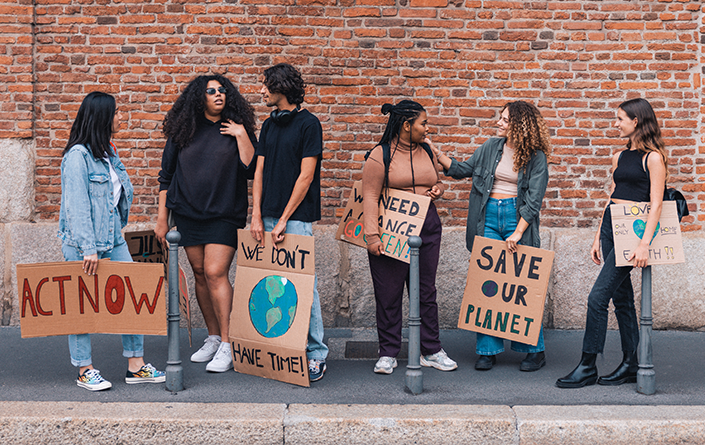 ---
1.     STUDENTS WORKING DIRECTLY WITH SUSTAINABILITY CENTRES
The Centre for Social Impact at Smith School of Business at Queen's University created some undergraduate student intern positions within the Centre. They work with the Centre team to create a strategy to promote and maintain an inclusive, welcoming environment for students, participate in research and identify best practices to support underrepresented students. Students assist with events that promote diversity and inclusion and work to build strong relations with student clubs, providing assistance and support and helping to identify barriers to participation in the Centre's initiatives and develop measures to remove or mitigate those barriers.
2.     SUMMER RESEARCH PROJECTS
The Dean's Award for Research Excellence (DARE) (launched in 2017) at Schulich School of Business at York University, allows students to work on professional research projects with faculty members during the summer. The 2021 winners for the DARE program focused their research on including inclusive disaster management in Canada and China's urbanization. The awards are for undergraduate students who are given a CDN$5,000 stipend to support their participation. Currently, 3 DARE awards are given but the university is actively seeking funding to provide more.
3.     RETHINKING THE STANDARD CASE COMPETITION
Since 2010, Royal Roads University has hosted a Design Thinking Challenge. While conventional case competitions are about quickly "cracking" a case, this challenge gives teams more time to come up with an understanding of the situation and those that will be impacted by their recommendations. They are asked to build prototypes, respond to feedback and iterate their proposed solutions. In 2021, the client was the Wilderness Tourism Association of British Colombia and addressing the impact of COVID 19 on the adventure tourism industry. Teams submit short videos with their suggestions. In 2021, suggestions included engaging with Black, Indigenous and People of Colour to encourage participation and partnering with Airbnb to bundle accommodation with wildness experiences. This annual challenge is open to schools across Canada and the US.
4.    LISTENING TO STUDENTS
Throughout the fall of 2020, Ivey Business School at Western University hosted a series of student listening sessions and conducted an anonymous student survey. The listening sessions aimed to identify challenges, barriers, and solutions from the perspectives of the Ivey students who participated in these sessions. Emerging themes included the classroom experience, culture and climate, representation, and the peer-to-peer social environment. Input from Ivey's listening work informs priorities.
+ One of the comments by students that I found interesting was about how a large part of a course grade (and even these listening sessions) is based on student participation which isn't very inclusive of those who aren't as comfortable speaking up in these public forums. I can relate to this, as when I did my MBA, I used to calculate how well I had to do on tests and papers since I wasn't comfortable speaking up in class and therefore couldn't count on those marks (yet now I am a public speaker…go figure). How can you listen to students to students that don't talk too?
5.    STUDENTS RETHINKING COURSES
In the Fall 2020 semester, Desautels Faculty of Management at McGill University offered its first course on sustainable finance (FINE 434), which was created in collaboration with the student organization Desautels Sustainability Network (DSN). DSN connects students across clubs, groups, and institutions to promote a culture of sustainable action within McGill University and in the Montreal community.  Between 2019 and 2021, the BCom Managing for Sustainability (Major and Concentration) programs were redesigned, involving extensive student consultation and the participation of DSN's academic team.
+ DSN is quite interesting and unique. Given sustainability goes cross all issues, how do you connect relevant streams across varying student clubs and initiatives?
6.     STUDENTS SUPPORTING LOCAL
Schulich School of Business was a key facilitator of the Digital Main Street ShopHERE Initiative –a partnership with the City of Toronto and leading e-commerce companies such as Shopify, Google and Facebook to launch online stores virtually overnight at thousands of retail companies throughout the Greater Toronto Area. The Digital Main Street initiative directly helped main street retailers stay afloat, and even thrive during the early days of COVID-19. One hundred Schulich students received work placements through this initiative to help small businesses move their businesses online at no cost.
+ How can your students drive change locally beyond in emergency situations, whether that be COVID or another event?
7.     NUDGING STUDENTS
‌ (JUST BECAUSE) The term "nudging" is used to mean a deliberate change in choice architecture with the goal of engineering a particular outcome. For example, one study in Copenhagen found that painting green footsteps on the sidewalk leading to garbage bins helped reduced litter. A school cafeteria changed their food display so that healthy foods were placed in easy-to-reach places while junk food was placed on higher and harder to reach shelves which increased the consumption of healthy foods. Harvard has this very short guideon nudging (very short to them is 8 pages) and Rotman School of Management this guide on nudging around the world. There is this work from UNEP on behavioural science for sustainability (fancy for nudge) and of course a whole book on Nudging by Richard H. Thaler and Cass R.  Sunstein. Nudge away!
+ Hmmm, I'm thinking we need a List on nudges. Send me your nudges and I'll include them!
---
Your Turn
I'm looking for examples of nudge (see below) but also how schools incorporate and respond to war within the curriculum and programmes. Please share your thoughts with me at gweybrecht@thesustainablemba.com.
---